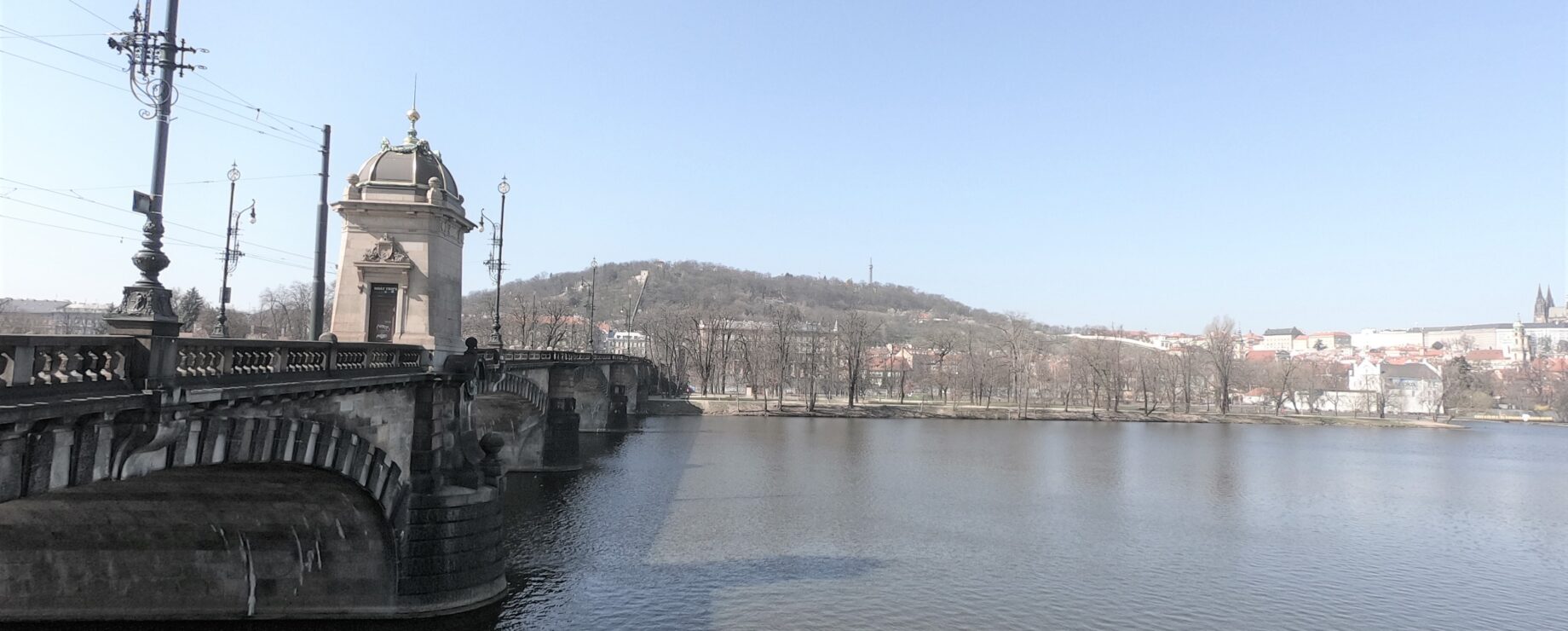 Petřín
Petřín Hill begins at the stairs which Prague Germans named the Eternal Way (Ewige Stiege; and to which Vlašská Street ascends). This ends at the observation tower 60 metres high which was constructed in 1891 following the example of the Eiffel Tower in Paris. Going up the tower is well worth it for all devotees of Franz Kafka and his novel The Trial, as from the summit one can very clearly see the whole trail that Josef K. who was sentenced to death had to cover. Kafka does not describe the individual places directly by their names, but various hints let it be quite obvious where Josef K. had to go with his two guides. It can be assumed they had to cross Charles Bridge, because the view over to Shooting Island (Střelecký ostrov) is clearly mentioned in the text and can only be beheld from Charles Bridge. They then continue into Malá Strana around the Military Command of the Austro-Hungarian Army (No. 15/258) and the police headquarters, which is hinted at by the large number of policemen passing by. Eventually they walk along Neruda Street and Úvoz to Strahov Monastery; at that time the city ended there, with a field behind the monastery, as is written in the text. And the execution itself then takes place in today's Strahov Stadium, which has been built on the site of Strahov's quarry.
In describing the topographical realities in this passage, one can clearly observe the typical manner of Kafka's literary work – again, real and dream realities are combined and everything is intertwined. There was no town house at the Strahov quarry at that time. Rather, it seems likely that Kafka brought it here from the Kinský garden at the opposite foot of Petřín Hill, where we know from his diaries that he sometimes went for a walk. Alternatively, he could have been referring to the houses near the path to Strahov, which led from the other side of the hill (now Pěší Street), where several houses actually stood at that time.
Kafka's The Trial also inspired Milan Kundera in his novel The Unbearable Lightness of Being. One of the main characters, Tereza, forbids herself to be jealous of the other character, Tomáš, even though his hair still "smells of a strange woman's lap", but she cannot help the feeling. So she turns to Tomáš to help her, and he sends her to Petřín, where "everything should be arranged".
---
This guided walk is a part of the "Democracy on the Brink. Historical lessons from the late 1930s" project supported by the Europe for Citizens programme of the European Union.
Další místa na téma "A literary walk through Kafka's Prague on the trail of his story Description of a Struggle"