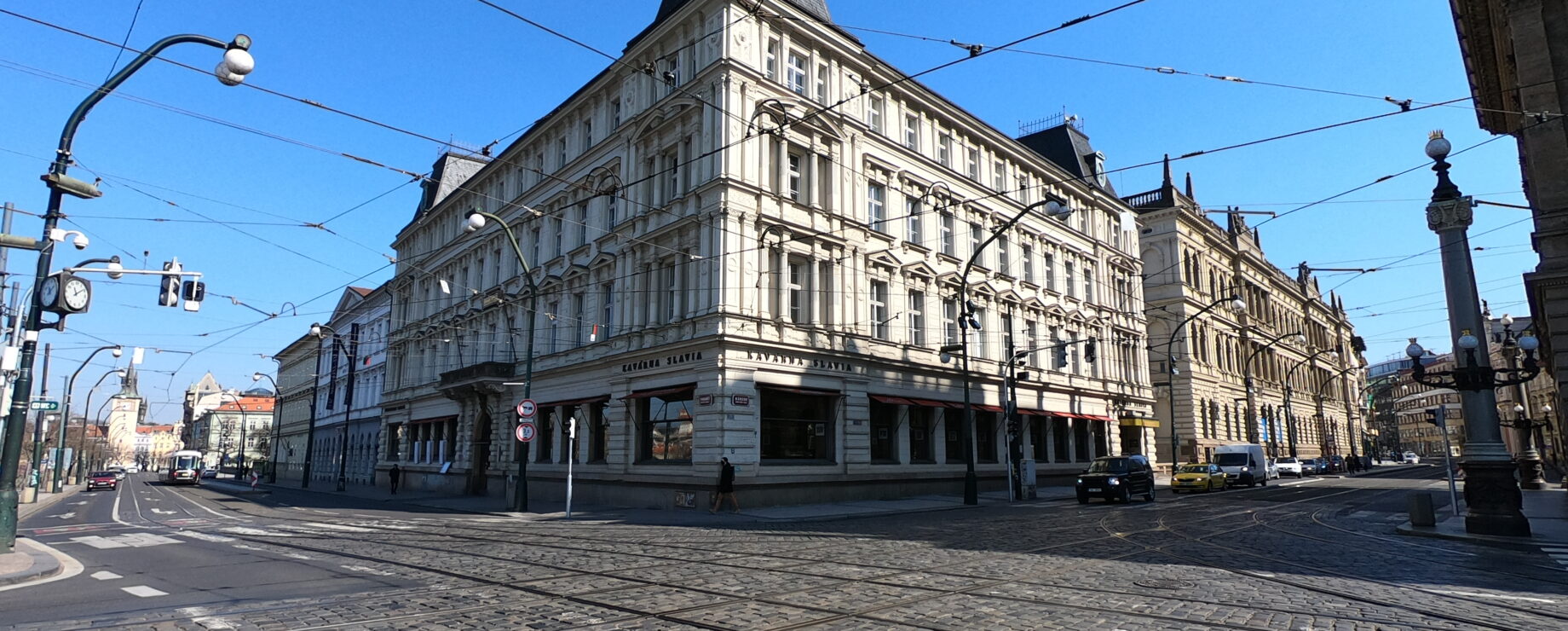 Kavárna Slavia
People from the National Theatre and avant-garde artists of Czech nationality used to meet in the coffee house opposite the theatre at the end of the 19th century. Rainer Maria Rilke (1875–1926) incorporated this café into his stories King Bohus and The Siblings, which are linked by the character of the Czech student Rezek and came out in 1899 under the title Two Stories of Prague (Dvě pražské povídky).. The café itself, in these two tales, featured under the name of "Café National", which is a hint pointing at the nationality-conscious Czech environment, on which much is spoken in these works. This name is not fictional but is a borrowing of the nearby National Café which served as a meeting place for progressive-minded Czech students and artists.
One of the artists from this circle was Jaroslav Seifert (1901–1986), who captured the café-society mood in his early works, where the longing for Paris and the appreciation of the modern French way of writing poetry are very apparent. In his poem Café Slavia (Kavárna Slávie), which we find in the Halley's Cometcollection, he recounts his first meeting with Apollinaire's works and invokes the atmosphere of Paris. An important factor in this reality is that Apollinaire himself spent two days in Prague in 1902 and that short visit virtually mystified the Czech avant-garde.
Of the other literary works in which this coffee house plays a leading role we have to mention the poem of Prague-born Olly Komenda-Soentgerath (1923–2003), who voluntarily relocated to Cologne in 1946, Café Slavia, where she recalls the Prague of between the wars. Olly Komenda-Soentgerath published lyrical collections since 1979, out of which three have even been translated into Czech, and that by none other than Jaroslav Seifert himself, with which he repaid her for her translations of his poems into German.
And finally it is worth mentioning the novel Café Slavia (1985) by Ota Filip (1930–2018), who has been living in Munich since 1976.
---
[1] [I waited for you/at the station/with every aeroplane/I dreamt of you./Now in the Café Slavia/on the indifferent Vltava/you are to me/unattainably close./Between us a table/the world./We lost our dream too late.]
---
This guided walk is a part of the "Democracy on the Brink. Historical lessons from the late 1930s" project supported by the Europe for Citizens programme of the European Union.
Další místa na téma "A literary walk through Kafka's Prague on the trail of his story Description of a Struggle"